Ministry of foreign affairs
STEP 1: Determine SMART objectives in advance 
Determining the ROI after an event can often lead to considerable problems, because no clear objectives have been set in advance. If you lay out SMART objectives in advance, you can easily create a baseline measurement to establish the ROI. The objectives of the Ministry of Foreign Affairs were clear and SMART, allowing us to easily translate them into various measurement points.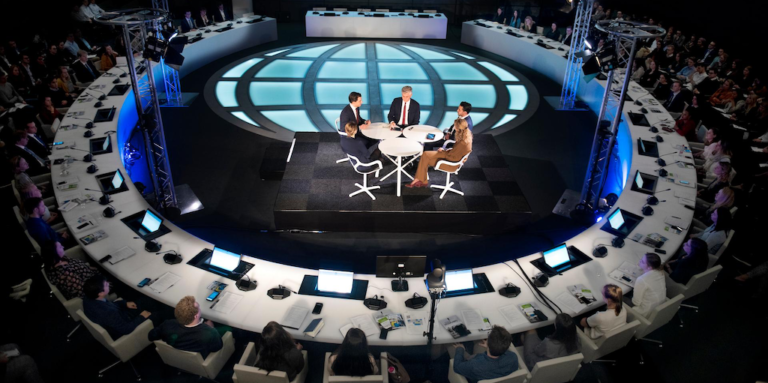 STEP 2: Start with a clear baseline
One method to measure effectiveness is to send an evaluation form to the participants after the event, typically generating an 8% response rate. This sample size is not sufficient to draw reliable conclusions. Additionally, an impure measurement such as this gives no clear indication as to how the participants thought about specific topics before the start of the event.
Through the Savvy Vote app, all in-house day participants (both onsite and via livestream) were asked to answer a number of questions before the event kicked off. The number of respondents to this survey exceeded 80%. And a clear picture emerged of the potential applicants' viewpoints about the Ministry of Foreign Affairs.
STEP 3: Build in more benchmark moments
During the event, more benchmark moments were built in, without affecting the participants' experience. Panel discussions brought on plenty of responses through questions and statements. This resulted in interaction and a lot of information being collected and passed along to further substantiate the ROI. By using Savvy Vote, participants also had the opportunity to send questions directly to the panel moderator. By including these steps, the involvement between the participants and the panel members increased enormously. After the event, all participants received a second survey with a few questions. The number of respondents to this survey: 65%.
STEP 4: Share results directly with all stakeholders
Based on the surveys given before and after the event, it quickly became clear how effective the transfer of knowledge was during the in-house day at the Ministry of Foreign Affairs. Together, all the measurement data formed the basis for a full report that was available immediately to all stakeholders. Now that's Savvy!
Finally:
The meeting was experienced as very useful and informative by the participants. Afterwards, 79% indicated that they applied to the job functions. The data collected through the Savvy Congress applications provided good insight into, among other things, the studies that were followed by participants in the in-house afternoon. That was particularly useful information and based on that, labor market communication was used in a more targeted manner.
Interested in learning more about the Savvy solutions that can help you measure the Return on Investment for your next event or congress? Be sure to read the previously published article or contact us for further information.