Online Open Days (Recruitment & Training)
We live in a new reality which physical getherings are not always possible or desirable. It can be challenging to give content to an open day for your school, company or association. Savvy offers various online options for organizing an informative open day without the participants having to be physically present.
An online open day should be simple for the user and do exactly what it should do. Savvy's online environment is completely web-based. It is therefore not necessary to install additional software. Naturally, the online environment is designed in the desired corporate identity and only those functions are visible that are actually used during the day.
Make an impact online and be successful in recruiting new students, employees or members.
Welcome everyone personally online during a plenary session. Up to 3000 participants can be present in the plenary session at the same time. In addition to the plenary sessions, participants can go to different virtual rooms via their own personal agenda.
Speak to participants, play a previously recorded (promotional) film, share your presentation and then start a conversation in a virtual room.
These different virtual rooms can be used creatively. They can be used for a one-on-one conversation, a workshop, as a breakout session or exhibition stand for one of the sponsors. The functionality and corporate identity can be determined in advance for each virtual room. Add sponsor material and share PowerPoints for example.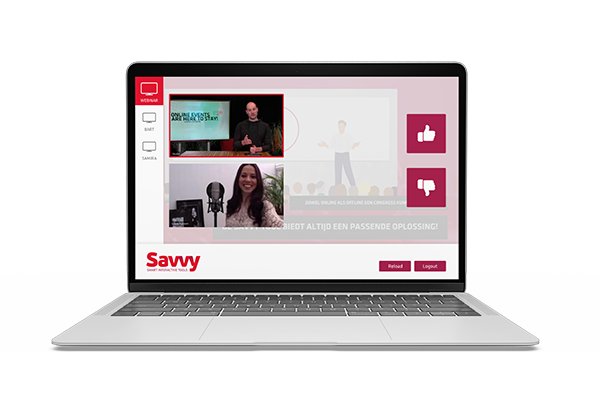 Savvy implementation
SAVVY IMPLEMENTATION
Savvy's smart software platform can easily be used for any type of event: online, hybrid or live. How does it work?
CHOOSE ONE OF THE SAVVY SOLUTIONS
REQUEST A DEMO
PERSONALIZE AS YOU WANT WITH ADDITIONAL TOOLS
SAVVY SUPPORT ONLINE AND FROM BROADCAST LOCATION DURING YOUR EVENT
EVALUATE AFTER THE EVENT WITH SAVVY DATA
Standard solution
Extra additions