conference and congress
Savvy Congress offers an event platform that is used for live, hybrid and online knowledge events and conferences. Savvy's platform works on all devices and makes it possible to follow the conference both live and online. All participants can share knowledge directly on their own device and attend sessions from different locations during the conference without the need for downloading external applications.
With Savvy, participants can flip back through slides, take notes, and ask questions to the speaker. You can respond live to statements and/or questions. The questions and answers can be shared directly with all participants and shown on the screen.
Walking around with an old-fashioned conference folder is no longer of this time. Instead, more digital interaction is required. Make a conference more interesting and dynamic with extra functionalities such as break-out rooms, one-on-one rooms, interaction and networking options. The functionalities and look of each room can be customised. With the help of the interaction possibilities, not only will the speaker's knowledge be shared, but also the audience's knowledge. Savvy stores this valuable information in a report for the organisation. Thanks to this report, the purpose of the event can be measured.
Streaming an event from multiple locations (multi-hub)? Then our livestream is the solution you are looking for. Our accreditation module is a handy addition for hybrid knowledge-sharing events!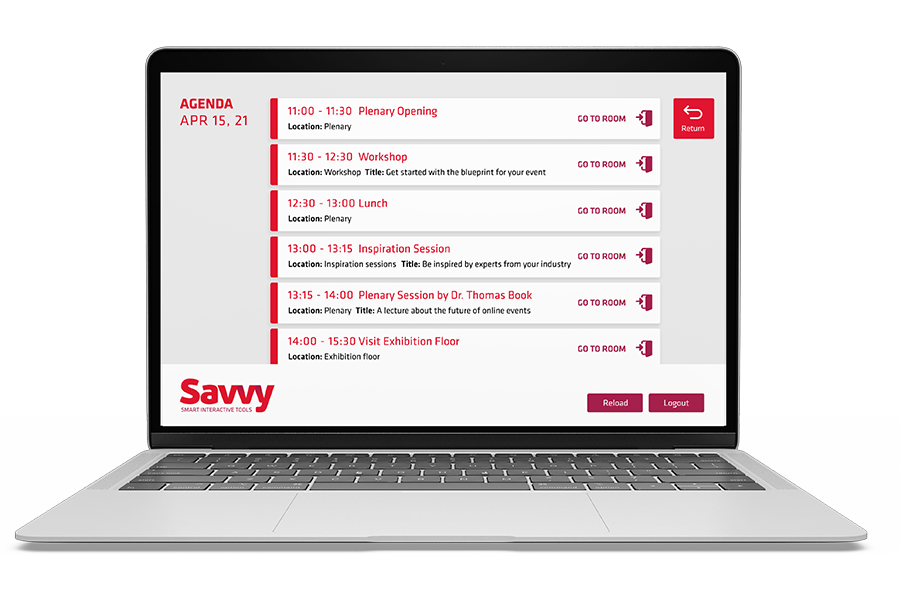 Savvy implementation
Online, hybrid or live; Savvy's smart software platform can easily be used for any type of event.
CHOOSE IF THE EVENT WILL TAKE PLACE LIVE, HYBRID OR ONLINE
REQUEST A DEMO
PERSONALISE AS DESIRED WITH ADDITIONAL TOOLS
SAVVY SUPPORT DURING YOUR EVENT (ONLINE AND FROM BROADCAST LOCATION)
EVALUATE AFTER THE EVENT WITH SAVVY DATA
Standard solutions
Extra additions
Discover all our services: