Open Days (Recruitment & Training)
It can be challenging to give substance to an open day for a school, company or association. Savvy Congress offers various possibilities to organise an informative open day even when not all participants and speakers can be physically present.
To ensure that every participant has a full experience, a tailor-made program per target group is essential. The participants have the opportunity to ask questions via their own device while they look at the program in between.
Make an impact with the open day and be successful in recruiting new students, employees or members.
Welcome all live and online participants personally during a plenary session. Up to 3000 participants can join the event online at the same time as the live participants. In addition to the plenary sessions, the participants can go to different (virtual) rooms via their own personal agenda.
Talk to participants, play a previously recorded (promotional) video, share your presentation and engage in conversation with other participants in a (virtual) room. Use the virtual rooms in a creative way as, for example, a one-on-one conversation, a workshop, or as a breakout session. The functionalities and look of each room can be customised.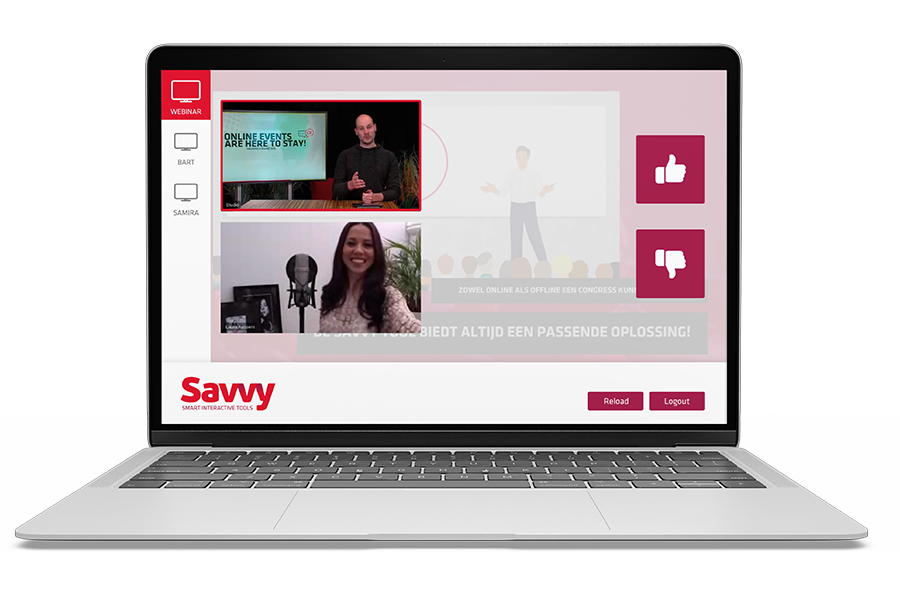 Savvy implementation
Online, hybrid or live; Savvy's smart software platform can easily be used for any type of event.
CHOOSE IF THE EVENT WILL TAKE PLACE LIVE, HYBRID OR ONLINE
REQUEST A DEMO
PERSONALISE AS DESIRED WITH ADDITIONAL TOOLS
SAVVY SUPPORT DURING YOUR EVENT (ONLINE AND FROM BROADCAST LOCATION)
EVALUATE AFTER THE EVENT WITH SAVVY DATA
Standard solutions
Extra additions
Discover all our services: