Interactive tools bring events to a higher level
Mood mirror
The mood mirror is a fun feature to wake up the audience. The simple thumbs up or thumbs down is a quick tool that allows the speaker to get immediate response to his questions and quickly reveals how the majority of participants feel about the question.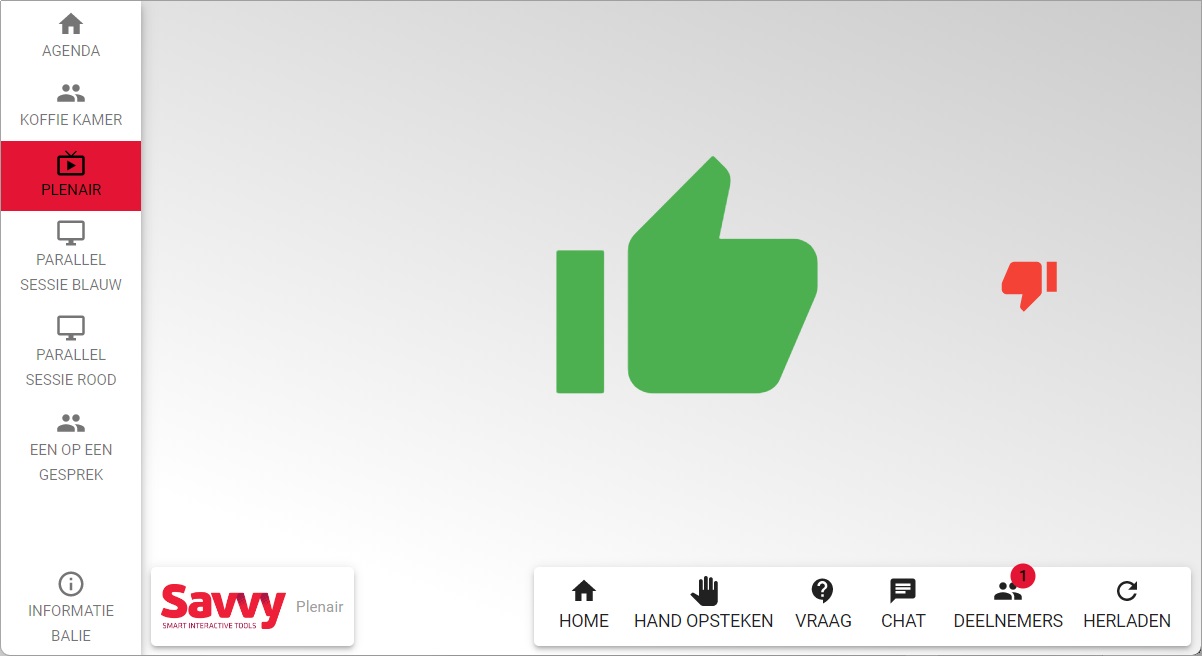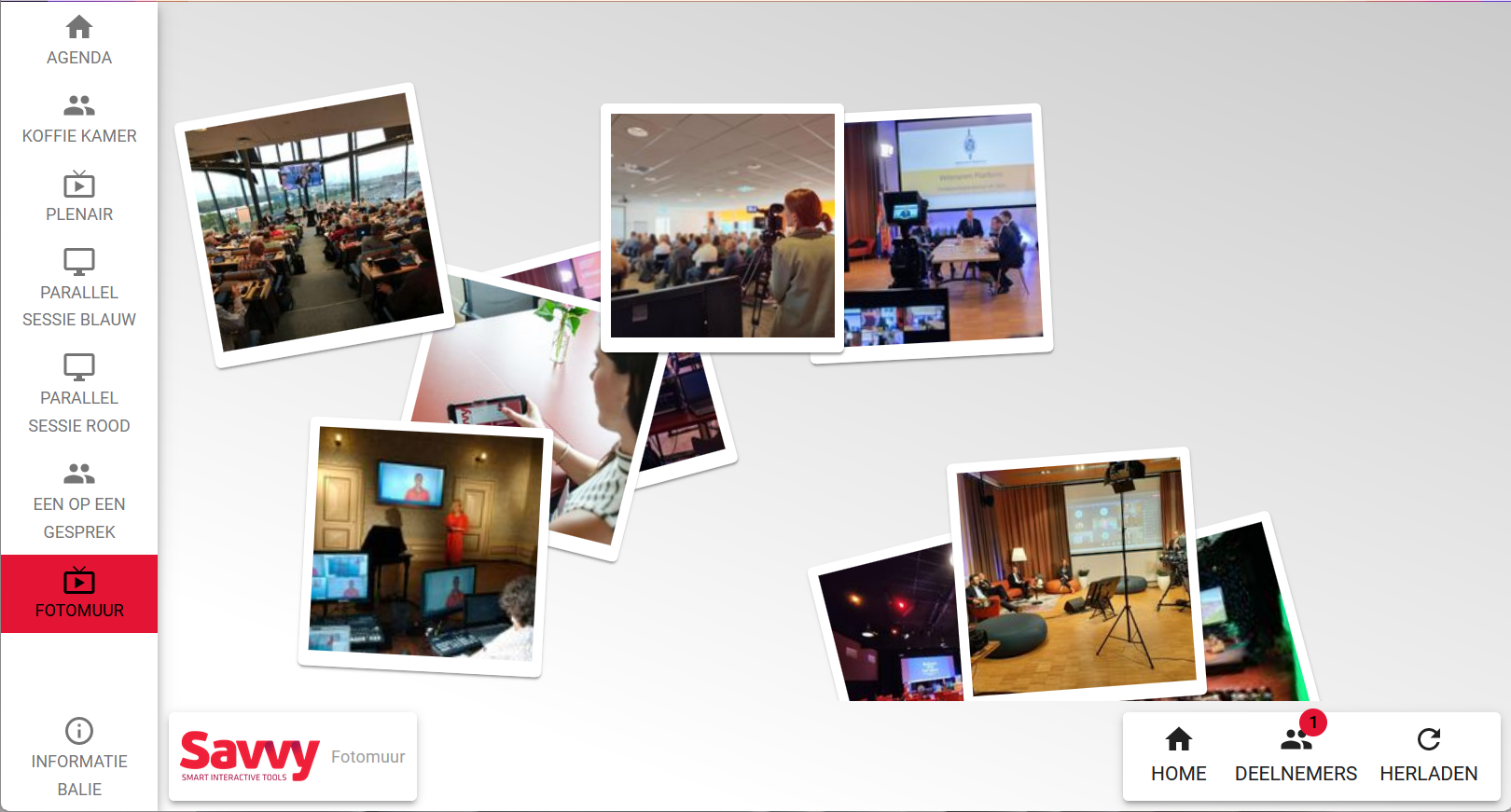 Photo wall
An interactive photo wall allows participants to share moments of the day with other participants. For example, by having the participants take a photo during the break, the participants remain connected to the event during the break. This is a unique addition for both an online and a live event.
Q&A
With the Q&A, participants cannot only ask their questions to the speaker, they can also choose to explain their question via webcam. The questions are filtered by the moderator, who passes the questions on to the speaker.
Quiz
In addition to the polls, it is also possible to add a quiz. This works slightly differently than the polls: the participant sees immediately whether he has entered the correct answer.
Pointer question
One of our more recent developments is the pointer question. An image is shown asking the participant to point at something. This can be, for example, a map with the question of where the participant comes from. But the participant can also be challenged to point out something related to the presentation: point out the ulna on a skeleton.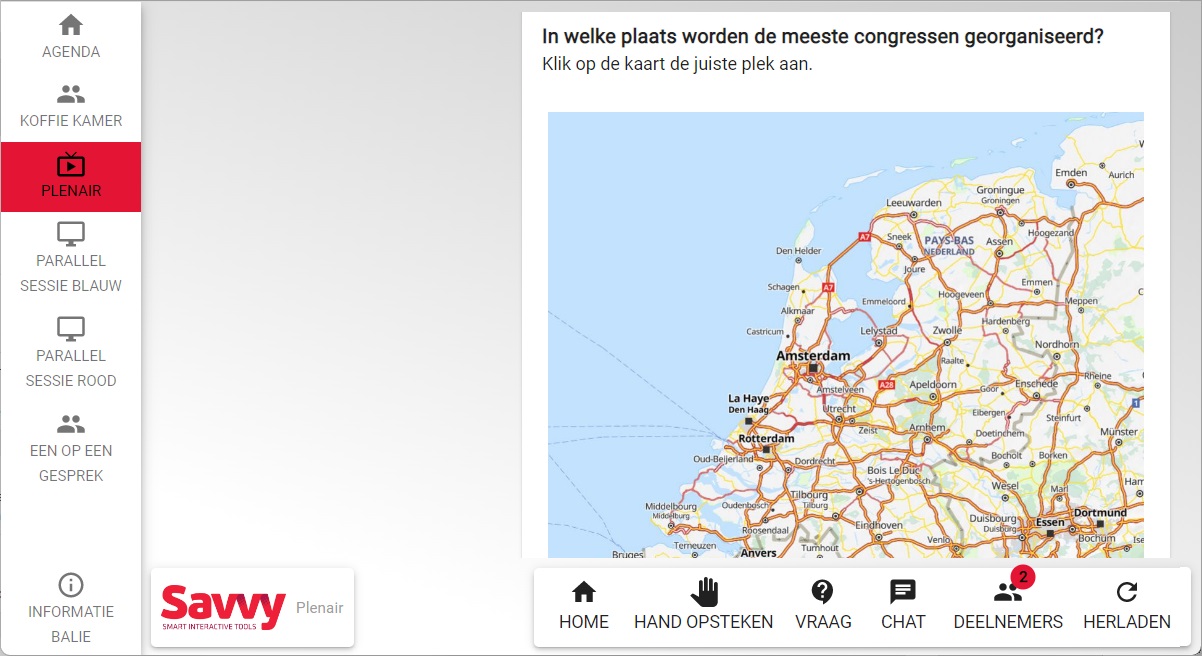 The people of Savvy make the difference
Digital tools are increasingly used during events to engage the participant and collect data. The range is wide and you can use many tools. But during an event, this is an extra task, while the event manager already has enough to do during the event. The event manager must be able to focus on the participants, the speakers and other tasks related to the event. Savvy's team is ready to take over the technique.
Our Operator is present on location and goes through the interaction moments with the speakers before the event and ensures that they are shown at the right time. This means that the speakers only have to focus on the presentation itself.
All the results of the interactive tools will be shared in a report with the organisation. After the event, an evaluation moment is scheduled to go through the event again. What did the organisation think went well and what should be given more attention to during the next event? Using the data from the reporting and evaluation, the next event will be lifted to an even higher level.