The pitfalls of organising breakout sessions
The possibilities with breakout rooms within online and hybrid events have increased enormously. We often talk about terms such as 'breakouts', 'workshops' and 'parallel sessions', but what do they actually mean? Are they the same to organise as with live events? In this blog we would like to dive deeper into the complexity of breakout rooms, the terms and 'pains' that you can come across, from Savvy's point of view.
This past year we noticed that any organisations are looking for online alternatives to their physical events. Breakout rooms are often an important part of this. Breakout rooms are group sessions where a small number of participants come together to engage in conversation. These sessions are mainly used to alternate between plenary sessions and can have different goals, such as:
Obtaining specific information and opinions of other participants;
Offering the opportunity to evaluate and talk after the event;
Having fun;
The opportunity to share knowledge between speakers and participants.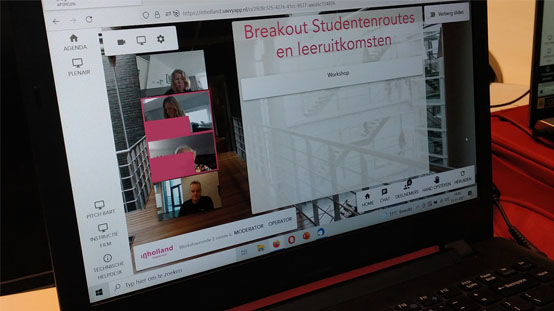 It is therefore important that participants are able to talk to each other during a breakout session. That is why the number of participants in one breakout room should be limited to no more than 25 participants. With a smaller group everyone is able to be on-screen simultaneously while having their microphones on. A small group ensures optimal interaction and prevents chaos. It is always useful to place a group leader within each breakout room, so that they can steer the conversation in the right direction.
When it comes to a larger group, we are no longer talking about a breakout room, but a workshop. This is where the workshop leader is in charge and is the only one on-screen with their microphone on. Participants can only come on-screen when they have a question for the workshop leader.
Another well-known concept is the parallel sessions. When several plenary sessions take place simultaneously in different rooms, they are called parallel sessions. These are different to breakout rooms because only the speaker is speaking. Participants often have to choose which session they wish to attend, and in some cases participants are able to view the other sessions back afterwards.
It is important that it does not become too complicated for participants with the many different sessions. A personalised agenda can help with this. The participants' chosen elements that they wish to attend can be found in their personal agenda. This prevents you from 'losing' your participants in the system. If this does happen, we will always have a Savvy employee present at the technical helpdesk!
Wherein physical events you set up a number of rooms for people to go to on their own accord, the organisation of this online is slightly different. There are different login profiles with different 'rights', as well as breakout rooms with different functionalities. While you would normally get help from the venue supervisor, it is important to understand that you also need this support online. It is not easy to set it up yourself and that is why a technical partner is important to have. We are the technical partner that can support and advise you in the best possible way. This is how we can make a successful event together.
Would you also like to adapt your physical event to become online or hybrid, but not sure how? Then contact us for advice.